小林万里子 Mariko Kobayashi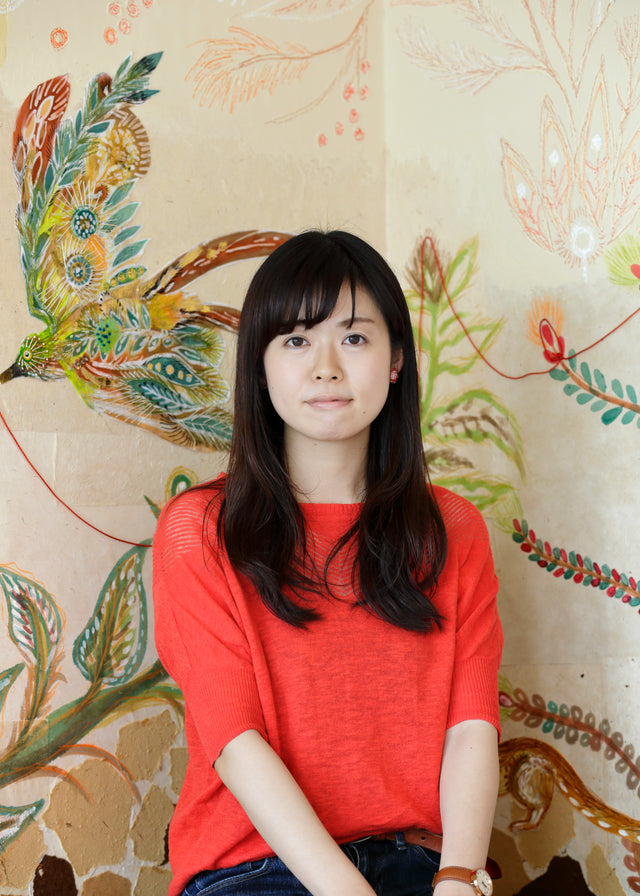 1987年大阪生まれ。多摩美術大学テキスタイルデザイン専攻、2012年同大学院修了。織る、染める、編む、刺す、といったテキスタイル技法を用い多様な素材を組み合わせていく方法で、世界に存在する様々な結びつきを表現する。人と動物を分ける境界線としての肉体が土へと還る長い時間や、死してから他の生き物として命が再生する道のりを描くといったように、我々が「人」として生きる「今」という時間を繙きながら制作を行う。重層的に織りなされる色や形によって現れる混沌のイメージの中から、生命の本質的な姿を描き出すことを試みている。
[活動歴]
2021年「Reborn-Art Festival 2021」(石巻、仙台)、「Coexistー共存ー」/gallery FIXA(岡山)、「オーバーストーリー」/KOTARO NUKAGA (品川、東京)、

2020年「背負うなら太陽だけでいい」/CADAN有楽町(有楽町、東京)、「Alternative Show : ART FAIR TOKYO 2020」/KOTARO NUKAGA (品川、東京)、

2019年「Wind of journey-光の遊ぶ庭-」/赤山歴史自然公園イイナパーク内。
近年の主なコミッションワークに、「 三機工業アートカレンダー(大日本印刷」や「マロカル保育園(東浦和、埼玉)」など。
Born in Osaka in 1987. Completed graduate course in textile design at Tama Art University. In early childhood, she became interested in various living things, and her interest in the natural environment and animal protection activities grew. In our own lives, artificiality has been increasingly prevalent in recent years, and through art, she has been trying to show our increasingly fragile relationship with living creatures. One of the charms of her work is her unique expression of colors and materials: she breaks her materials and sews them up again, or blacks out what she already did, and paints it again. Currently, she is actively creating large-scale artworks at places like public facilities so that she can bring her message to even more people.
2021 "Reborn-Art Festival 2021" (Ishinomaki, Sendai), "Coexist" at gallery FIXA (Okayama), "Over Story" at KOTARO NUKAGA (Shinagawa, Tokyo)

2020 "Only the sun is enough to bear", CADAN Yurakucho, Yurakucho, Tokyo, "Alternative Show : ART FAIR TOKYO 2020", KOTARO NUKAGA, Shinagawa, Tokyo, "Wind of journey - Coexist", gallery FIXA, Okayama, "Overstory", KOTARO NUKAGA, Shinagawa, Tokyo

2019 "Wind of journey - Garden where light plays" / in Iina Park, Akayama Historical and Natural Park, Akayama, Japan.
Recent commissions include "SANKI KOGYO Art Calendar (Dai Nippon Printing)" and "Marocal Nursery School (Higashiurawa, Saitama)".