Yoshitaka Nishikawa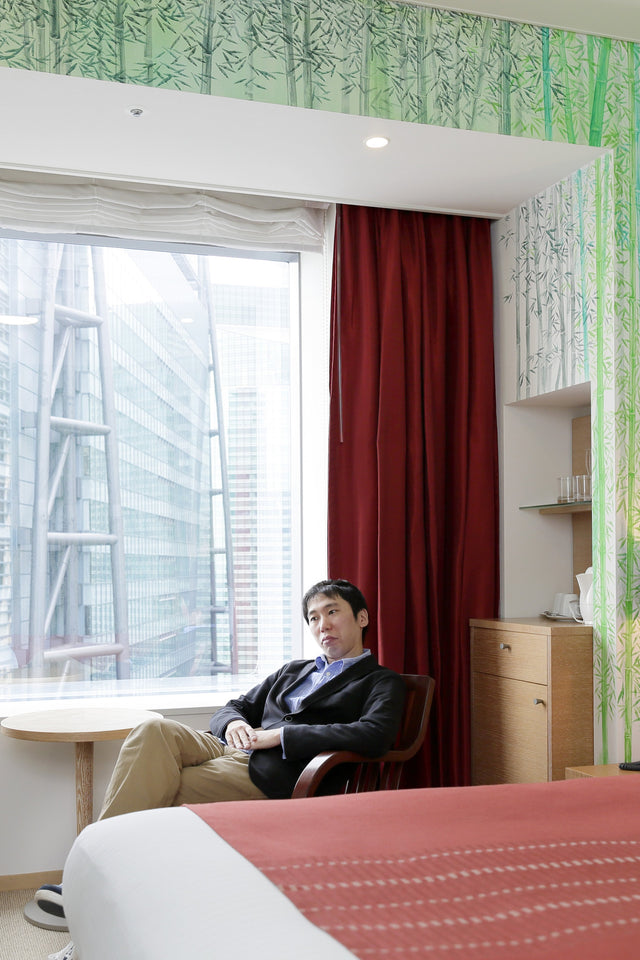 Yoshitaka Nishikawa
Born in Tokyo in 1979.
Graduated from Tama Art University, majoring in Japanese painting. At his first solo exhibition in 2005, he completed a dense work of 270 x 2,500 cm, which completely covered the wall of the gallery. His main motifs are people, especially parents and children, landscapes, and birds. His work involves teaching children to paint. His work is always a dialogue with his surroundings, and his works are a direct reflection of his honest and straightforward personality.
Solo Exhibitions & Awards, etc.
2003
Graduated from Tama Art University, majoring in Japanese painting
2004
Grand Prize at the 3rd Taisei Sato Public Art Exhibition
2005

Graduated from Tama Art University Graduate School


Taijiro Horikoshi Memorial Scholarship Scholarship

"Yoshitaka Nishikawa Exhibition" Art Space Rashinban (Tokyo)

2006

"Yoshitaka Nishikawa Exhibition" Art Space Rashinban (Tokyo)


2007

"Yoshitaka Nishikawa Exhibition" Art Space Rashinban (Tokyo)

"Yoshitaka Nishikawa Exhibition" Galleria Aoneko (Tokyo)

2008
Sompo Japan Incentive Exhibition
2009
"Yoshitaka Nishikawa Exhibition" Galleria Aoneko (Tokyo)

2010

"Yoshitaka Nishikawa Exhibition" Art Space Rashinban (Tokyo)
"Yoshitaka Nishikawa Exhibition" Sukiwa (Tokyo, Shiga)
2012
Tatehiko Suga Grand Prize Exhibition/Kurayoshi City Museum, etc.
2013

Today's Ink Expression Exhibition / Sato Museum of Art "Yoshitaka Nishikawa Exhibition" Galleria Aoneko (Tokyo)

2020
"Quietinside Exhibition" Park Hotel Tokyo (Tokyo)
group exhibition
2004
"The 3rd Taisei Sato Award Public Art Exhibition" Fukuchiyama City Sato Taisei Memorial Art Museum (Kyoto)
2005
"Triennale Toyohashi Shingo Hoshino Award Exhibition" Toyohashi Museum of Art (Aichi)
2007
"Blue and Black Plane" Gallery Shiramizu Art, Tokyo
2008
"The 27th Sompo Japan Selected Encouragement Exhibition" Sompo Japan Seiji Togo Museum of Art (Tokyo)
"Grape Pruning Utilization Charcoal Drawing / Circulation Exhibition" Yamanashi Prefectural Museum of Art (Yamanashi)
"The Power of Ink" Haguro-do (Tokyo)
"Art Fair Tokyo 2008" Tokyo International Forum Hirota Art Booth (Tokyo)
2009
"Possibility of hanging scroll" Haguro-do (Tokyo)
"Resonance" Court Gallery Kunitachi, Tokyo
2010
"Garon 1st Exhibition" Zuishoji ZAP Gallery (Tokyo)
2011
"The 11th Contemporary Ink Artist Exhibition" The National Art Center, Tokyo
2012
"Suga Tatehiko Grand Prize Exhibition" Kurayoshi Museum (Tottori Prefecture)
2013
"The 37th People Exhibition" Tokyo Metropolitan Art Museum (Tokyo)
"Nakanojo Biennale" Twelve Mimasu (Gunma)
"Today's Ink Expression" Sato Museum of Art (Tokyo)
2014
"The 38th People Exhibition" Tokyo Metropolitan Art Museum (Tokyo)
"The Beginning of Painting" Ueno Royal Museum Gallery (Tokyo)

2015
"The 39th People Exhibition" Tokyo Metropolitan Art Museum (Tokyo)
2016
"The 40th People Exhibition" Tokyo Metropolitan Art Museum (Tokyo)
"Standard Bearers of Modern Ink Painting" Rai Sanyo Historic Site Museum (Hiroshima)
"Still searching for the 'blue bird'" Haguro-do (Tokyo)
2017
"The 41st People Exhibition" Tokyo Metropolitan Art Museum (Tokyo)
"My Cat Exhibition" Sato Museum of Art (Tokyo)

2018
"Drawing with Ink" Art Space Rashinban (Tokyo)
"The 42nd People Exhibition" Tokyo Metropolitan Art Museum (Tokyo)
2019
"The 43rd Hitohito Exhibition" Tokyo Metropolitan Art Museum (Tokyo)
"Garon 3rd Exhibition" Tohoku University of Art and Design (Yamagata)
2020
"The 44th Human People Exhibition" Tokyo Metropolitan Art Museum (Tokyo) *Closed due to the corona disaster "The 16th Japan-China Ink Society Exhibition" Kanagawa Kenmin Hall Gallery (Kanagawa)

2021
"The 44.5th People Exhibition" Hagurodo (Tokyo)

2022
"The 45th People Exhibition" Tokyo Metropolitan Art Museum (Tokyo)

BambooBamboo
Yoshitaka Nishikawa